08 Ianuarie 2010
My very dear friends
I wish you each an excellent new year. One that will provide you and your close ones with the proverbial lasting true love, smashing success, and blatantly good health. May it also surprize you in very subtle ways and make each new day a continuous joyful celebration of life.

This January 2010, I want to thank you deeply. For being there, for accompanying me and my work in Romania, for travelling together on this adventure to develop top quality coaching, for actively participating in individual growth, team and organizational development. Last year has been very difficult for most, and I want to thank you for your unfledging support.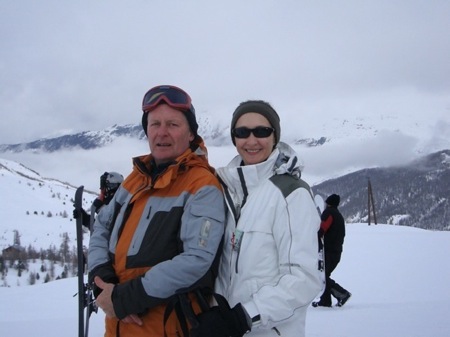 This year on new year's day, Geanina and I were on ski slopes in the South French Alps , reasonably close to our other home in Carry le Rouet. On January fourth, however, I was already back in the grind, leading a workshop on how to coach risk management, followed by three days work with half of the top 50 of a service organization. So we were rapidly back into active life. I am enchanted by the perspective that for me, 2010 will be a European year. Like last year, we will mostly live between Paris and Bucharest and often travel to Brussels and Madrid. A few trips to Berlin and to Milan are already planned for the spring, and work in other more distant and exotic destinations may be opening up. Below is more precise information about our coming trip to Romania, and then about what's coming for us in Europe:

Bucharest,
February 13, we will be in Bucharest for almost a month. Some work is planned with a few corporate clients and teams. With the Metasysteme Coaching Academy, you can also satisfy your personal hunger for useful open trainings in either (or both) of two events:
February 15 and 16, I am leading a 2-day workshop on the Breakthrough Process. This workshop trains managers and coaches to accompany major personal, professional and organizational shifts in perspectives to achieve breakthrough results. This approach gives managers and coaches the means to really provoke huge returns on investment.
February 22 and 23 begins the 8th Romanian Coaching Fundamentals cycle, one of the top coach training programs in Europe. Beyond acquiring coaching tools, this program is truly designed to grow managers and coach candidates into becoming excellent professionals.

Both the above programs are fully validated by the International Coach Federation as ACSTH programs. They are detailed on : (
https://www.metasysteme-coaching.ro/romana/actualit%C4%83%C5%A3i/two-training-opportunities-in-february-2010.html
) For our full 2010 agenda and other coming programs in Bucharest:
https://www.metasysteme-coaching.ro/romana/agenda-si-preturi-2010/
Coach supervision
The Metasysteme Coaching
Supervision Cycle
in Bucharest has room for new candidates. The work is practical, highly professional, systemic, and focused on on each participant's specific needs within a very positive network environment. The program is presented on the Metasysteme website. And don't hesitate to contact us for more information:
https://www.metasysteme-coaching.ro/romana/contact/
Berlin,
I will also be delivering two Coaching Fundamentals workshops in Berlin this spring, March 25-26 and April 12-13. These are the same ACSTH ICF-validated Metasysteme systemic coach training workshops as the ones I deliver in in France and Bucharest and soon watch for a similar offer in Madrid.

Milan,
You may not want to miss the ICF Italia annual conference March 16 & 17 in Milan. I am honored to have been asked to deliver a keynote speech there, in keeping with their challenging theme, "The Avant Garde of Coaching". The presentation will be delivered within a resolutely systemic perspective, and come prepared to participate. Also remember that Milan is the shopping capital of the world. For more information and to register: https://www.icf-italia.org
France,
Incidentally, on January 23, I am also delivering a workshop on "The Elegance of Emergence in Coaching" in the Northern France ICF conference in Lille. The conference theme is "The Esthetics of Coaching", so I couldn't resist. This year's French regional conference program is particularily attractive. To consult the offer and register:
https://www.metasysteme.fr/francais/actualites/l-esthetique-du-coaching.html
For more information on all my activities in France, please consult my French Newsletter and webpage:
https://www.metasysteme.fr/francais/newsletters/
. Besides that, do not miss the European ICF Conference on June 17-18 &19. This is
the
Conference not to miss, in Paris, just before summer. And stay just a few more days for the "Fête de la Musique" in the streets all over the city. for the conference details:
https://www.eccparis2010.com/
Online developements
According to the Google Analystics November 2009 statistics, the Metasysteme-Coaching website welcomed 4 771 visits, for an average time of 3 minutes per visitor originating from 92 different countries. 12 525 pages were consulted that month (an average of 2,63 pages per visitor). About one third of these visits concerned Romanians. For that extraordinary interest in Metasysteme and our contribution to coaching in Romania, I thank you again.

A growing portion of the visits to the Metasysteme website are referred by Linkedin. On and off, I am active on that network, as I participate in some dialogues and discussions and sometimes input my own articles and reflexions. If you are a Linkedin user, do hot hesitate to contribute reactions, comments and questions on the "Metasysteme Coach Community" group (search for Metasysteme in "Groups"). I hope that network will gradually become of a dynamic sharing platform for all who are involved with Metasysteme systemic coaching in Europe and elsewhere.

Publishing
I have a new French book project for which I am waiting approval, and a Romanian translation of another book is (still) in the works. The crisis has slowed the Bucharest process down last year. In English, I have been writing a number of new texts that are posted on the website, including one that is still getting a lot of attention on the particularities of true-blue coaching presence and how it is foundational to all other coach lools and techniques: https://www.metasysteme.eu/english/toolboxes-systemic-coaching-posture-and-process/ This text is getting much attention.

Voila! That's all for now. Except that again, I wish you the best in 2010, along with continuous, fluffy, soft and warm tenderness, and much more when appropriate or needed. And again, thank you for your support and interest in my personal way of contributing to this profession that we all hold so close to our hearts and souls. Hope to see you soon, and do not hesitate to call to get to know us better, or contact us should you need any supplementary information :
https://www.metasysteme-coaching.ro/romana/contact/
.
Passionately

Alain