03 Septembrie 2010
Dear Friends
I hope you are ending your summer season refreshed, resourced, rested, re-energized, and ready to roll. On our end, we had one week vacation on Mauritius island in July, and another on the Basque coast (Atlantic) of Southern France in August (picture below of Biarritz by night). On both locations, we got tanned, I tamed the waves body surfing, Geanina got pampered in spas and we just wallowed in farniente. It was so good we (almost) felt guilty. We are now ready for re-entry into an active fall season, with a short-list of our menu items below.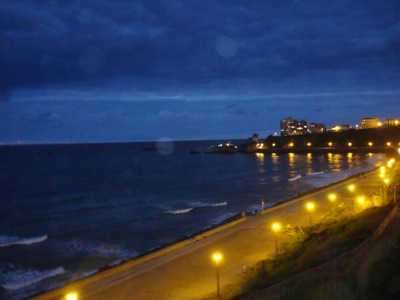 In Bucharest:
Actually our fall season has already started. It will be very busy. Starting August 20, we have been in Romania, team coaching in Oradea, and then in Bucharest. Also some individual coaching, lots of meetings with clients and friends, very little sleep. By September end, we will come back here to deliver coach training in the Metasysteme Coach Academy. Considering how much we are developing in Romania, we will be coming here four more times before this year end, each time for a two week working stay. That is fifty percent of my active time. This makes Geanina, my Romanian wife, radiantly happy.

More specifically, the September
"Coaching Fundamentals"
course is full, and the next cycle due to start January 25-26 is already starting to fill. Don't wait too long to register if you are interested. The advanced team development workshop on
"Delegated Processes"
is programed for October 25-26: That is two intensive days to acquire specific skills to better manage and coach executive and other teams as performance-focused collaborative environments. This advanced workshop is specifically tailored for leaders, project and network managers, team and organizational coaches and team building consultants. The
"Supervision cycle"
is on a roll, and there is still some room for newcomers. Don't forget that all these services are validated by the International Coach Federation as ACSTH courses, that prepare to pass ICF certification as internationally certified coaches. To register for any of these top quality coach development programs, go to:
https://www.metasysteme-coaching.ro/romana/agenda-si-preturi-2010/
As for coming
conferences,
on November 11-12, I will participate in the Romania Coach Association (the Guild) conference, hopefully inviting one or more client organization to present what they are doing with coaching to develop their people and their results. And on November 18, I will also deliver a speech on team coaching in the sales environment, in the Accelera Sales Managers National Conference (November 18-19, 2010). To register to attend that, go to :
cndv@accelera.ro
Germany
On November 22-23, in English and in Hamburg
,
I will offer the legendary Metasysteme «Breakthrough» advanced workshop for coaches and managers. It delivers extremely effective strategies to radically expand your perspectives on what you think you can achieve. Coaching is not only about relationships and interfacing. It is also about setting challenging goals and achieving outstanding results. This is where you get ROI. For information on this event and to register, check:
https://www.cq-kommunikation.com/aktuelles.html
Spain
September 30-October 1, in Madrid, we are launching a new branch of the Metasysteme Coach Academy with a first "Coaching Fundamentals of Mastery" 9-day course spread over four months. Advanced Metasysteme workshops will shortly follow. These will be offered in a mix of English and Spanish, co-delivered by myself and Claude Arribas, PCC, who is now validated to deliver all Metasysteme ACSTH training and supervision. To complete this school's palette, Claude will also deliver a Metasysteme supervision cycle. For more information on the whole program and to register:
https://www.i2c.es/web/es/servicios/coaching/escuela/fundamentos
In France:
Top quality is the recipy, obviously measurable success is the result. All the French Metasysteme Academy programs are practically full. The September Coaching Fundamentals is sold out, the January cycle is open for registration. This fall's Paris supervision group is full. The "Delegated Process" advanced workshop in October 2010 and the Lyon Supervision group due to start in January 2011 are getting there. Note that word of mouth is our only marketing and sales strategy, so thank you again for your continuous support. And for information on all the French Metasysteme services , check the
www.metasysteme.fr
website.
I have just delivered the manuscript for my next book in French, I think it is my fifteenth, to Inter-Editons (Groupe Dunod, my new editor) for publication next year. It concerns what I consider to be masterful systemic coaching. The subject challenges a large number of widespread ideas on how we are what we do or don't do as coaches. I will now focus on finishing the English version, and keep you posted on progress for a Romanian version due next year.

For those who are not aware, our house is sold and we are definitely out of Southern France. We are now based in Paris on and off, and in Bucharest for a full half our lives. And besides Linkedin, I have started posting my presence on Facebook. It's never too late, and maybe see you there.

Time to conclude. Do not hesitate to send me a word to share what you may be up about, up to, up for, up against, or whatever. And do continue to spread the word about what you think I do best, especially to people who may most benefit from those services. And thank you for being so present in our lives.
Alain