09 Februarie 2011
A quick Reminder: Come and lift the veil...
February 21-22
DIAGNOSIS WORKSHOP FOR INDIVIDUAL, TEAM AND ORGANIZATIONAL COACHING
ALAIN CARDON

For leaders, managers, coaches, consultants, trainers. Two consecutive days of intensive training, for up to twenty participants.

This workshops provides participants with:
Diagnostic tools to swiftly make the difference between what people, teams and organizations say they want and what they really need in order to fully develop their potentials (expressed goals vs underlying issues).

Diagnostic tools to easely perceive real team and organization cultures (what they actually do, not what they say they are), their real strenths and their real challenges.

A systemic understanding of fundamental strategies for organizations and teams to truly develop personnel empowerment and coresponsible proactivity with their leaders. (Something most managers and leaders are truly scared of).
Fundamental elements concerning a successful coaching posture when accompanying teams and organizations in their transformational process.
An personal understanding (and avenues for development) of each participant's own potentials and challenges as a leader, manager, coach, consultant or trainer.

Participants will be provided with a culture-profile questionaire. This inventory is franchise free, available for immediate use by all participating training, coaching and team development professionals. Each coach or consultant participant will learn how to use the diagnosis inventory as a foundational springboard to design systemic executive coaching, team coaching and organization coaching strategies with their clients.
This workshop is practical: Individual and collective work and training on personal strengths and challenges will help each participant position their personal coaching potential for future development, much in the same way as the diagnosis inventory can be used with any individual or collective corporate client.
A proud accomplishment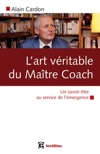 In French libraries this February 9, 2011, and already being translated for a Romanian version.
This book has been slow to mature, long to surface to my conscience. It is the result of a very gradual writing process paved with doubts, hesitations, tests, voids and emptyness until slowly appeared some tracks, then paths, then more obvious directions and finally a clear destination.
It happens that the very structure of this book is a metaphor both of the above emerging writing process, and of a masterful coaching sequence: The first section concerns all that a masterful coach must leave aside to provide a truly open and available space to their clients, free of all personal clutter. The second section concerns the development of the one truly systemic receptive state that will help coaches and clients seize patterns of potentially new emerging perspectives and solutions. The third section concerns how solutions surge or surface when we least expect it, sometimes when we have given up on all hope, and really let go of all our expectations.
The last part of the book proposes that individual, team and organization coaching all rest on one identical systemic coaching posture and frame of reference. In all individual or collective coaching relationships, it is mostly the quality of the coach's personal presence and attentive posture that permits an extraordinairy unfolding of client potentials. All the rest is just incremental.
Needless to say, this book is very close to me.

Again, thank you for your presence, and hope to see you soon,
Alain