04 Martie 2012
Hello dear friends
Good news: there is a paradoxical indicator that the Romanian coaching market is maturing. Indeed, there are more and more potential clients that are getting seriously tired of being regularly solicited if not daily harassed with too many superficial coaching offers. More and more of these prospects do not even want to hear the word coaching anymore. As a result, many dilettantes will hopefully get discouraged and stop saying that they are coaches.
This market reaction, is an excellent sign. When the initial wave of impatient and poorly trained opportunists start to get burned on any market, that is a sure indication that the latter is maturing beyond its primary developmental phase. It is characterized by a first innovating step, but on a rather superficial level. Consequently, the time may have come when only more mature and better trained coaches will survive on the market. On this more mature market, one can hear more and more requests for coaches who minimally have an ACC certification. Many coaches are getting ready to earn their PCC. Note that these more mature professionals don't sell by relentlessly pushing their offer to unknowing clients but acquire well-informed clients by word of mouth based on their practical experience and reputation for respect. Note also that most of them are working in a network or coaches rather than as self-sufficient individuals. They cooperated to succeed.

Consequently, if the coaching market, that is both the suppliers and the buyers, is evolving in that direction today in Romania, the field will become wide open for trained coaches. Others will have either to survive in small peripheral niches or to move on and find other fields in which they can continue to be innovative opportunists. Some, of course will just go back to selling real estate.

If on the Romanian coaching market, we can observe this evolution towards more professional purveyors on one hand and more astute prospects on the other, we can wonder if is an indicator of a much larger evolution of the general Romanian marketplace.
Are Romanians in general becoming less willing to buy goods and services just because they are faddish and being pushed by seductive marketing and convincing salepeople?
Are Romanian clients and consumers in general focusing more on their goals and real needs before buying anything?
Are local consumers in genral learning to make appropriate choices after carefully discriminating between a wide range of available products and services that may in fact not serve their needs at all?
Are clients in general moving away from quick-fix and immediate gratification, and learning to buy long term or sustainable quality?
I hope the apparent changes taking place on the Romanian coaching market are in fact an evolution indicator of the larger, more general Romanian business context. This evolution towards a more mature marketplace could be considered one of the most positive results of the recent economic crisis. The 1998 "revolution" is now 25 years old so the Romanian market could now be entering its mid-twenties, slowly approaching the qualitative maturity of the thirties.

Coming ACSTH Training
In this context yearning for more meaning and quality, Metasysteme Coaching will continue to offer the best coach training in Romania on the one hand, and to develop the coaching and team coaching market with selected quality partners on the other. In March and April, two ACSTH (I.C.F. validated courses) are on the agenda:

March 22-23 Coaching Diagnosis Workshop When you walk into a team meeting, how can you get an immediate insight as to its strengths and weaknesses ? What are the categories of different team and organization cultures? Why change these and change into what ? How can you instantly tell what coaching or consulting strategy to use with a client when you first meet, even if that meeting is on the phone? What are the systemic indicators that allow you to establish an immediate diagnosis of any system, whether it is a person, a team, an organization, an informal group, a family, a country, a network, an NGO, a political party, etc?

This very practical workshop is tailored to be most useful for coaches, consultants, trainers, managers, leaders, entrepreneurs, and just anybody who wants to learn how to use instant systemic diagnostic tools. If you work in a collective system such as a network or team, coming with an internal partner could prove very effective. To register: https://www.metasysteme-coaching.ro/romana/contactati-ne/

The next 9-day Fundamentals of coaching Mastery starts in Bucharest this April 18 & 19 to end early July. Beware, this program is not only about how to become a coach. It is tailored to give you the necessary foundations to become an international-level professional coach, with ICF validation, and with an extremely performing systemic edge to wow yourself and your clients. Beyond future professional coaches, this course also attracts leading managers, entrepreneurs and professionals active in other fields who simply want to acquire the attitude and tools to become the best. In the last program, 40% of the participants came from abroad to attend, from as far as Brussels, Geneva and Madrid. So if you are looking for a truly international program to learn masterful coaching skills and posture, you owe yourself the best. For dates, prices and to register: https://www.metasysteme-coaching.ro/romana/dates-prices-and-registration/

New Book, Events, Article..
The Romanian version of my last French book on the underlying posture and attitude of masterful coaching is coming out in a few weeks. Translated by Laurentiu Zoicas, you will be able to order it from CODECS publishers very soon. I will keep everyone posted on the "Metasysteme Coaching" Facebook page as to when it is available. Paradoxically, this book on masterful systemic coaching reveals how coaching is often more successful without powerful questions, without effective time management, without solid contracts and action plans. In effect it presents the deeper reasons for Metasysteme's internationally recognized coaching approach.
Consequently, this book is more personal and about the more existential if not spiritual dimensions of coaching. It definitely is a second-generation book on the profession. Beyond coaching tools, it very practically offers precious insights on what the fundamental master coach posture is and how it helps achieves coach and client transformation. This book will be very useful to help the market understand the deeper dimensions of the coaching profession.
An annex to the Romanian translation will also present a wide-scale organization development case-study of a full year program of training and coaching work within a large company based in Bucharest: Japan Tobacco Industry. A good number of testimonials offered by the people involved within the program are included in the chapter. So stay posted for our book signing event this coming month, probably at the Bucarest center Carturesti library.
Speaking of events, we suggest you come to some of our monthly Metasysteme Coaching open community meetings for coffee and friendship, on selected Saturday mornings, in a local Bucharest café, at 11:00 a.m. 
The object, if there needs to be one, is for the existing and potential members of the Bucharest Metasysteme Coaching community to meet informally. Network with old friends, welcome new ones, ask and answer questions on who we are and what we do, or just hang out. 
 These monthly Saturday brunches have been happening for a year now. They have been fun, and are becoming an institution. Plan on dropping by on some of the next ones planned for March 17, April 21, May 26, June 16. The place will be in the center of Bucharest and will be posted on the Metasysteme Coaching Facebook Page. Either at Galeron or Van Gogh cafés.
Website Resources: I remember mentioning in this year's January newsletter that the Metasysteme website broke its record attaining more that 5 500 visits per month. We passed the 6 500 mark in February. That is +20% in less than 2 months. There too, Metasysteme seems to be exceeding client expectations. You may want to consult a recent article on exectuive coaching paradoxes: https://www.metasysteme.eu/english/paradoxes-in-executive-coaching/

Ahh!! Just back from a week vacation: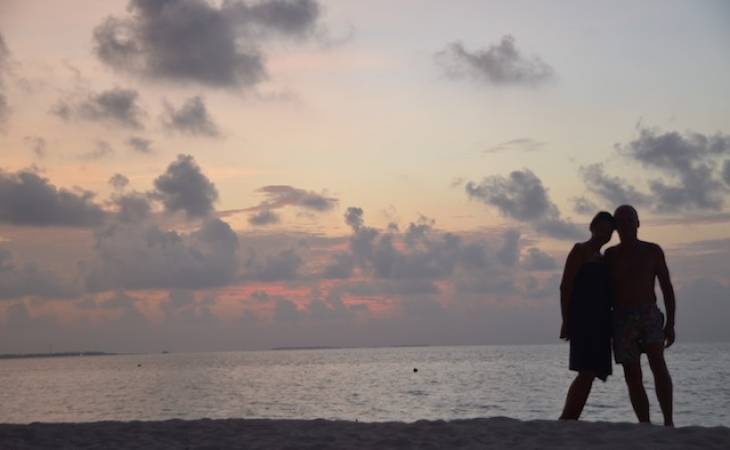 So... that's all for now, and I do hope to see you and some of your friends soon in one of the above events. Coaching is a relationship and network-oriented profession focused on sustainable human developement. So we are in this field to meet and grow together.
See you soon.
Alain