05 August 2009
Dear friends,

I hope this summer is bringing sunshine into your lives and hearts and that you are getting more than the necessary rest & recreation to face the coming year with true presence and joy.
Scurta introducere: Aceasta scrisoare este diferita. Mi-am imaginat intotdeauna ca Alain mai are putine lucruri de invatat si, mai ales, ca acel "ceva" care este specific lui (si pe care il pot numi har sau intelepciune, fara a fi insa sigura ca am folosit cuvantul potrivit) il fac intr-un fel de neatins.

Si, fara ca aceasta sa fie neaparat legat de Alain, vad in jurul meu schimbari, atat de multe cate nu s-au intamplat in ultimii cativa ani: oamenii isi schimba nu doar locul in care traiesc sau muncesc ci si perspectiva asupra sensului vietii. Ceea ce inainte conta mult mai putin devine dintr-o data important sau chiar foarte important in ecuatia vietii.
Si cum lucrurile noi care se intampla in jurul nostru provoaca altele, iata cateva vesti despre ce face echipa Metasysteme in Romania. Am inceput sa lucram la o noua imagine a website-ului in limba romana. Vrem ca ceea ce face cu adevarat diferenta in stilul de coaching practicat de noi, si anume abordarea sistemica in coaching, sa devina evidenta pentru cei care ne cunosc sau pentru cei care sunt in cautarea unei solutii performante. Speram ca in curand, website-ul in limba romana sa fie un loc comun si obisnuit de vizitat pentru cei care sunt interesati de munca lui Alain, de noutatile cu privire la comunitatea de coaching sau noi perspective sistemice.
Ma astept, de asemenea, ca workshopurile (Fundamentele Coachingului si Procese Delegative) care au loc in septembrie sa poarte amprenta ultimilor pasi pe care Alain ii face si sa aiba ca participanti mai multi manageri in cautarea unei stil de lucru cu adevarat diferit si performant in aceste timpuri de punere sub semnul intrebarii a valorilor consacrate. Si, nu ma refer aici doar la sistemele de valori care au condus culturile organizationale ci chiar la modurile de lucru operationale care au stat la baza activitatii si deciziilor de business din fiecare zi.
Intre timp, echipa Metasysteme Coaching a mai crescut cu o colega noua, Ionelia Chirvase, care aduce multa energie in procesul de re-definire a activitatii noastre. Cam atat despre noi (echipa Metasysteme Coaching). Va doresc lectura placuta in continuare! Mihaela Paduraru
On my end and in the course of the past few months, a number of significant life accidents in my very close environment have alerted me, questioned me, and re-centered me on essentials. First, a very good and close friend who is also an occasional and competent client has been fired from his organization without advance warning, without due respect, without deserved recognition.

In ultimele cateva luni, mai multe accidente de viata care s-au petrecut in mediul meu foarte apropiat ma fac atent, ma fac sa imi pun intrebari si sa ma concentrez asupra esentialului. Mai intai, un foarte bun prieten si care este din cand in cand client ocazional, foarte competent, a fost concediat de catre firma la care lucra. Fara nici o alta vorba, fara avertizare, fara respectul meritat, fara recunostinta cuvenita.
Very recently, a member of my close family circle had a very serious cardiac alert and almost left this world without the smallest advance indicator. Healthy and vertically present one night, horizontal and on the operation table the next morning. Thank God, he still has an undeniable joie de vivre and an enraged will to fight back and stay amongst us a little more.

Apoi, datorita unei crize cardiace, unul dintre membrii foarte apropiati ai familiei aproape a parasit aceasta lume fara sa aiba cel mai mic semn de boala inainte de asta. Sanatos si pe picioarele lui noaptea, pe masa de operatie a doua zi dimineata. Multumim lui Dumnezeu ca are inca o puternica "joie de vivre" si o dorinta intensa de a se recupera si de a fi printre noi ceva mai mult timp.
Also before summer, in the last few days of May, Geanina and I have had a significant car accident. Water on the freeway, sudden aqua-plan skidding and then a roll into the ditch. Three broken ribs for me, a fractured wrist for my wife, and forget about the car. As I speak, we are well on the way to recovery, with very few lingering sequels. We have already taken a week vacation to Lisboa, that's in Lusitania (or Portugal), and we plan another in Catalonia. We are changing our horizons and working to get back into our legendary shape during the summer.

Totodata la inceputul verii, in ultimele zile ale lunii mai, eu si Geanina am avut un accident de masina destul de grav. Era apa pe autostrada, am facut acvaplanare si ne-am rostogolit intr-un canal. Trei coaste rupte pentru mine, o incheitura fracturata pentru sotia mea iar despre masina, putem uita. Acum cand scriu, suntem bine, inca in recuperare, cu doar cateva sechele nu foarte importante. Am avut deja o saptamana de vacanta in Lisabona, in Lusitania (sau Portugalia), si planuim inca una in Catalonia. Ne schimbam orizonturile si lucram pentru a fi in forma noastra legendara pe parcursul verii.
It seems that these different life accidents, hurdles, alarm signals and alerts are there to remind us of the importance of our personal engagements, of the value of being alive, of the deeper meaning of our professional choices. But it is so difficult to learn our lessons in pain, in sadness, in fear and anger. Some of us are blessed and tend to our lessons in relative comfort, while the larger majority of humanity often learns in hardship and sorrow. Our occasional life accidents are maybe also there to remind us to stay humble and thankful and to jolt us out of our comfort zones.

Se pare ca aceste accidente, bariere, semnale de alarma si atentionari diferite se intampla pentru a ne reaminti importanta angajamentelor noastre, a valorii vietilor noastre, a sensului profund al alegerilor noastre profesionale. Insa este atat de dificil sa ne invatam lectiile in durere, tristete, frica si manie. Cativa dintre noi sunt binecuvantati si invata lectiile intr-o stare de confort relativ, in timp ce majoritatea oamenilor o fac in suferinta si durere. Accidentele intamplatoare din viata noastra se petrec poate pentru a ne reaminti sa ramanem modesti si recunoscatori si, totodata, ca sa ne zdruncine din starea de confort.
Conferinte, articole, carti - Conferences, Articles, Books
Si viata merge mai departe. Pe 4 iunie, mai putin de patru zile de la accident, cu cateva dintre coastele mele plutind si foarte atent sa nu rad sau sa tusesc, am avut placerea sa sustin o conferinta despre coaching pentru echipe si organizatii pentru SFCoach (Asociatia Franceza de Coaching) in regiunea Lyon (Central France). Publicul calduros si primitor a reusit chiar sa ma faca sa chicotesc cu toata cu durerea mea.
And life goes on. On June 4, hardly four days after my accident, with some of my ribs freely floating around and careful not to laugh or cough, I had the pleasure of delivering a small conference on team and organization coaching for the SFCoach (French coach association) in Lyon chapter (Central France). The warm and welcoming public even managed to get me to chuckle with painful reserve.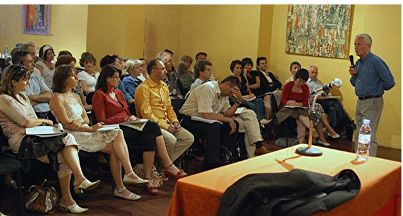 In curand, pe 27 si 28 august, voi sustine un workshop in cadrul conferintei de vara de la Paris a ICF. Tema este: jocuri castigatoare si necastigatoare pe care coachii si clientii le joaca. Pe parcursul anilor, am avut cateva reflectii pe tema:
Cateva dintre potentialele laturi intunecate si manipulative ale instrumentelor si abilitatilor de coaching, si
Cateva din dimensiunile pozitive si castigatoare ale faimoaselor jocuri considerate negative in Analiza Tranzactionala.
Desi aceste doua teme pot fi considerate la o privire superficiala foarte diferite, ele de fapt se aseamana si ajuta la dezvoltarea unor intuitii folositoare pentru profesia de coach. Astept cu nerabdare multe impartasiri si inspiratie de la aceasta conferinta.

Soon, on August 27 and 28, I will also deliver a workshop in the Paris ICFF (ICF France) summer conference. The theme is : winning and losing games coaches and clients play. Over the years, I have had a few thoughts on the subjects of
some of the potentially darker and manipulative sides of coaching tools and skills, and

some of the lighter and winning dimensions of listed negative games of Transactional Analysis fame.
Although these two themes may superficially seem very different, they actually really meet. and help develop useful insights for the coaching profession. I am looking forward to lots sharing and inspiration in this conference.

ATENTIONARE: Un numar de scoli si asociatii de coaching din Romania coopereaza pentru organizarea unei conferinte in Noiembrie. Rezervati-va datele de 11, 12 sau 13, daca puteti. Ideea de la care s-a pornit este sa se ofere comunitatii de coaching un spatiu comun in care sa se impartaseasca si sa se faca schimb de cunostinte, cadre de referinta si sa se lege prietenii.

ADVANCE WARNING: A number of schools and associations related to coaching in Romania are cooperating to offer a conference in November. Save the dates of November 12 and 13 if you can. The shared idea is to offer the coaching community a common space to share and exchange their skills competencies, frames of reference and friendship.

Intre aceste doua conferinte continuu sa lucrez la proiectele mele de scris. Focusul atentiei mele literare este pe ascultare si prezenta atenta, fara intentie, pentru o stapanire deplina a coachingului sistemic. Tema ascultarii nu este foarte dezvoltata in comunitatea de coaching. Ea este, totusi, cea mai favorabila tipului de mediu din care cele mai bune solutii ale clientului pot aparea, mai ales atunci cand relatia coach-client are fundamente solide. Versiunea in limba engleza a acestui articol extensiv devine treptat disponibila pe website-ul meu, pe masura ce il rescriu in aceasta limba. Traducerea textului va urma in curand dupa.
In between these two conferences, I am continuing on my writing projects. The current focus of my literary attention is on listening and attentive presence, without intention, for masterful systemic coaching. The theme of listening is not much developed in the coaching community It is, however, the one most conducive to developing the type of environment from which sustainable client solutions can emerge, especially when the coach-client relationship rests on solid foundations. The english version of this extensive article is gradualy becoming available on my website, as I rewrite it in that language. The Translation text will follow soon after.

CARTI: Traducerea ultimei carti in franceza, Dictionar comentat de coaching va fi in curand finalizata, undeva la inceputul lunii septembrie. Editura Codecs ar vrea sa grabeasca procesul si sa o aiba pe rafturile bibliotecii in aceasta toamna. Va vom tine la curent si consultati website-ul pentru noutati.
BOOKS: The translation of the latest French book, Dictionaire commenté du coaching will soon be finished, early September. Codecs Publishing is aiming for a quick process to have it on library shelves sometime this fall. We will keep you informed, and consult the website for news.

Training and workshops - Training si workshopuri
This fall, The Metasysteme Coaching coach training program is again taking me from Timisoara and Bucharest in Romania to Madrid in Spain to Brussels in Belgium and Hamburg in Germany. The whole range of trainings, workshops and supervision cycles attracts participants from all over Europe, all walks of life, all levels of competency in coaching. In the middle of this European geographic spread, I am still offering the equivalent in French, in Paris.

In aceasta toamna, Programul de formare pentru coach al Metasysteme Coaching, ma va lua din nou din Timisoara si Bucuresti pentru a ma duce in Madrid, Spania, in Bruxelles, Belgia si in Hamburg, Germania. Intreaga gama de traininguri, workshopuri si cicluri de supervizare atrage participanti din intreaga Europa, toate profesiile si nivelele de competenta in coaching. In mijlocul acestei raspandiri geografice europene, inca sustin acelasi lucru in franceza, in Paris.
In Romania, the new Coaching Fundamentals training course start on Septembre 23 and 24 in Timisoara and September 28 and 29 in Bucharest. In these, I will gradually integrate the practical results of my reflections on how master coaches create a relational context favorable to emerging client solutions. This training cycle is gaining in power and pertinence, and all participants enthusiastically appreciate.
In Romania, noul program Fundamentele Coachingului incepe in septembrie 23 si 24 in Timisoara si in 28 si 29 septembrie in Bucuresti. Voi integra gradual in acestea rezultatele practice ale reflectiilor mele despre cum master coachii creeaza un context relational din care sa apara solutiile clientului. Aceste curs castiga in putere si pertinenta, si participantii sunt entuziasmati.
On September 21 and 22 and in Bucharest, I am again delivering a workshop on Delegated Processes. This is also one of Metasysteme's ICF validated ACSTH training courses. It is focused on systemic strategies for team and organization coaching, or how to accompany both executive teams and complex systems by coaching groups of over 50 people. Many coaches think that team coaching is limited to moderating team meetings. Don't hesitate to come and develop coaching competencies that will strategically accompany process and interface changes to transform whole organizations.

Pe 21 si 22 septembrie in Bucuresti, ofer din nou un workshop despre Procese Delegative. Acesta este unul dintre cursurile Metasyteme, validate de catre ICF ca fiind acreditate (ACSTH). Este focusat pe strategii sistemice de coaching pentru echipe si organzatii sau cum sa acompaniezi atat echipe de management cat si sisteme complexe de peste 50 de oameni. Multi coachi cred despre coachingul de echipa ca este limitat la facilitatrea intalnirilor echipei. Nu ezitati sa veniti si sa va dezvoltati competentele de coaching care vor acompania in mod strategic procesele si vor facilita schimbari care sa transforme organizatiile.
And as usual, when you are good and ready, the Metasysteme Supervision Cycle continues on its monthly rhythm in Bucharest, and there is still ample space to welcome you. And I will not mention here the whole range of other coach training and supervision offer that I am delivering in France, Spain, Belgium and Germany as the details are available on the different Metasysteme websites.
Si, ca de obicei, cand sunteti pregatitit, Ciclul de Supervizarea Metasysteme continua in ritmul sau lunar in Bucuresti, si exista inca spatiu sa va primim. Nu voi mentiona aici intreaga gama de formari in coaching si supervizari pe care le ofer in Franta, Spania, Belgia si Germania intrucat aceste detalii le gasiti pe diferitele website-uri Metasysteme.

Calatorii-Calatorii - Travel-travel
Dupa cum am mostenit in familie si respectandu-mi angajamentul european, voi calatori in mod intens in aceasta toamna. Mai bine de o treime din munca mea va fi in Franta, mai ales in Paris, in urmatoarele patru luni. Vom fi in Romania, Bucuresti si Timisoara incepand cu 9 septembrie pana pe 4 octombrie, in Noiembrie din 4 pana pe 28 si din nou in decembrie din data de 20 poate pana in 2010. Desi incetinirea economica este inca foarte putin perceptibila in Romania, cred cu tarie ca dezvoltarea comunitatii si a pietii de coaching in contextul actual este mai folositorre ca oricind.
True to my family script and in keeping with my European commitment, we will be travelling extensively this fall. A good third of my work will be in France, mostly Paris, in the next four months. We will be in Romania, Bucharest and Timisoara from September 9 to October 4, from November. 4 to 28, and again from December 20 on, maybe to 2010 Although the economic slowdown is still very perceptible in Romania, I firmly believe that developing the coaching community and market in the present context is more useful than ever.

Alte calatorii planificate includ una sau mai multe opriri in Madrid, Spania pentru a dezvolta brandul specific Metasysteme, coaching sistemic de calitate. Dezvoltarea de aici va fi probabil lenta dar foarte promitatoare. Alte opriri planificate vor fi in Hamburg, Bruxelles, Barcelona si, poate in Italia, care va aduce diversitate si va condimenta putin vietile noastre.
Other expected trips include one or several hops to Madrid in Spain to develop Metasysteme's particular brand of quality systemic coaching. This development will probably be slow but is very promising. Other expected hops to Hamburg, Brussels, Barcelona, and maybe to Italy will add variety and spice to our lives. A little more stability will be provided by the small studio we have just bought in Paris, however, so when we will be there, we'll feel more at home than in a hotel.
Concluzii - Conclusions
In sudul Frantei, in mijlocul lui august, este aproape imposibil sa tragi vreo concluzie. Acum este mai mult momentul sa digeri, sa visezi, sa gandesti, sa evaluezi, sa imaginezi posibilitati si apoi sa incepi. Acum in mod clar nu este momentul pentru actiune. Acum, putem sa ramanem nehotarati si deschisi la toate optiunile. Doar pentru cateva saptamani inca. Sentimentul meu este ca in curand va sosi momentul in care ne pregatim pentru 2010. Va fi un an care speram, ne va rezerva doza lui de surprize si schimbari. Si va fi necesar pentru noi sa ne pregatim bazele pentru acel viitor foarte curand. Plan de actiune pentru septembrie: consolidarea proiectelor pe termen scurt, pregatirea actiunilor pe termen lung si pastrati ceva spatii deschise peste tot pentru a permite unor aventuri neasteptate sa isi faca loc in viata voastra.
In Southern France and in the middle of August, it is quite impossible to conclude anything. Now is more of a time to digest, dream, think, evaluate, imagine possibilities and then start all over. Now is definitely not a time for action. For the present, we can remain uncertain and stay open to all options. For a few more weeks, that is. My feeling is that it will soon be time to prepare for 2010. That year will hopefully reserve us its share of surprises and changes. And it will be necessary for us to start laying foundations for that future very soon. Action plan for September: consolidate short term projects, prepare longer term enterprises, and save open spaces everywhere to allow for the unexpected emerging adventures that add life to life.

Sper ca inca simtiti efectele benefice ale vacantei si sper sa va vad in curand. I wish you to be still benefiting from your vacation, and hope to see you soon.
Amicalement (which means friendship-ingly), Cu prietenie, Alain Cardon

Tradusa si cateodata adaptata de Mihaela Paduraru